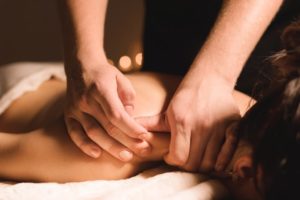 At Barkley Massage & Chiropractic in Bellingham, WA, we look forward to helping you heal and relax through therapeutic massage. These massage techniques have many health and wellness benefits and may even help to relieve your stress, anxiety, and depression.
What Is Therapeutic Massage?
Therapeutic massage covers a range of techniques designed to promote your body's natural healing ability. This type of massage therapy is often used in conjunction with medical treatments to address different complaints or injuries thoroughly. Your massage therapist can work with your chiropractor to help reduce pain and help soft tissues heal.
Benefits Of Therapeutic Massage
Relieve Stress
Stimulate Natural Healing
Stimulate Healthy Blood Flow
Increase Flexibility
Reduce Anxiety
Pain Control & Reduction For Chronic Injuries
Increased Respiratory Function
Medical Vs. Relaxation Massages
When considering a massage, should you choose one for medical purposes or relaxation? What's the difference? A doctor often prescribes therapeutic massages as part of a treatment plan. Relaxation massage does not require a prescription.
There is no limit to the number of times you can receive a massage. As a result, therapeutic massages can be useful for both medical and relaxation purposes.
6 Common Types Of Therapeutic Massage
Our Specialties
At Barkley Massage & Chiropractic, we specialize in several therapeutic massage therapies including deep tissue, Swedish, sports massage, trigger point massage, and injury massage. We invite you to let our licensed massage therapists help you relax and heal.
Schedule An Appointment In Bellingham
Servicing the Bellingham, WA area, our Barkley Massage & Chiropractic therapists look forward to meeting you. Why wait to start feeling better? Contact us today to schedule an appointment.