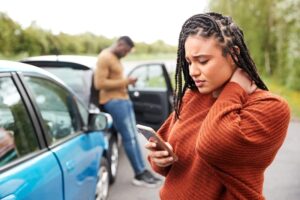 Barkley Massage & Chiropractic in Bellingham, Washington, can help alleviate your pain and encourage healing after a car accident injury. A car crash can leave you with aches, stiffness, and an overall reduced range of motion.
With proper chiropractic care and complimentary massage therapy treatments, it is possible to find relief from back pain, neck pain, and other auto-related injuries so that you can return to work, school, and the activities you love. 
Our Holistic Approach To Healing
Many traditional medical treatment options focus primarily on using pain pills, muscle relaxers, or surgery. We believe in a more holistic approach. Chiropractic adjustments and massage therapy offer a more homeopathic, whole-body approach to healing after your body has suffered trauma in an auto collision. After a thorough examination, and depending on the nature of the injury, we will suggest a treatment plan that may involve a mix of therapies. 
When To Seek Treatment After A Car Crash?
Whether you've been in a major car accident or a minor fender bender, you should seek medical treatment as soon as possible to prevent your injuries from worsening. Whiplash, headaches, body aches, and stiffness can all make it difficult to focus on self-care and daily tasks. Unfortunately, these symptoms can worsen the longer you go without addressing the issue properly. 
We offer both chiropractic care and massage therapy in one convenient office. We will work with you to make sure you're getting the comprehensive treatment plan you need to get and feel better from your unique injuries and complaints. 
Whiplash

Concussions

Neck Pain

Back Pain

Spinal Cord Injuries

Knee Injuries

Shoulder Injuries

Chronic Headaches

Stress & Anxiety
Chiropractic Care For Realigning The Body
Chiropractic adjustments restore alignment and encourage pain relief and healing from the inside out. Improve balance, posture, circulation, and range of motion while decreasing your body's painful inflammation response. 
Massage Therapy For Faster Healing
Massage therapy can help to relieve any tension or stiffness related to stress caused by the trauma of a car accident – and everything you have to deal with afterward. Relaxing your muscles through massage can also break up scar tissue, improve your range of motion, and improve your overall comfort levels.
Don't Wait Until The Pain Is Unbearable! 
If you've recently experienced a car accident, Barkley Massage & Chiropractic in Bellingham, Washington, can help you find relief from your pain and injuries. When treated quickly, chiropractic care and massage therapy can work together to restore balance to your nervous system and reverse the effects of shock and trauma to your body. Contact our office today to schedule your appointment.