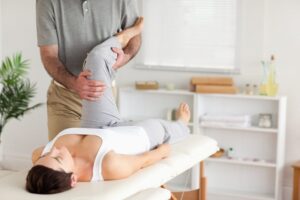 Experience gentle, natural, healing stretch therapy at Barkley Massage & Chiropractic in Bellingham, Washington. Relieve pain, increase range of movement, and improve your flexibility. Find out more about how assisted stretching can help you.
The Fascia – Wellness Connection
Your fascia is your body's connective tissue system, surrounding your muscle, organs, nerves, and bones – holding everything in place. Rich in nerves, fascia tissue is nearly as sensitive as your skin. Stressed fascia can tighten up and cause stiffness, inflammation, and painful knots around your muscles.
Stronger, More Flexible With Stretch Therapy
Traditional stretching exercises focus on the muscles and joints. Stretch therapy goes a step further to include the fascia. By working with our professional stretch therapists, you can extend your body's range of motion beyond the limits of ordinary stretches.
Improved Muscle Balance
Stronger Muscles
Increased Flexibility
Reduced Tension
Better Posture
Chronic Pain Relief
Improved Relaxation
Injury Prevention Or Treatment
Not Just For Athletes
Even though this technique can help athletes heal from sports injuries, or prevent them from occurring in the first place, you may benefit from assisted stretch therapy no matter your age or physical fitness level. Increased mobility through stretching may help you reduce many physical discomforts.
Plantar Fasciitis
Menstrual Pain
Rotator Cuff Injuries
Muscle Strains
Tight Hips
Back & Neck Pain
Facet Joint Dysfunctions
Pinched Nerves
Will It Hurt?
Your stretch therapist may focus on rotational, lower-body, or upper-body stretching. Because your body will be pushed beyond its normal range of motion, you might worry it's going to hurt. Stretch therapy is a gentle technique that should be relaxing and stimulating, not painful.
When To Expect Results
You may start to feel improvement after their first session or two, but the healing of any injury or stress rarely happens overnight. Over time, assisted stretching has been shown to reduce joint pressure and pain, increase muscle flexibility, and reduce chronic neck pain, back pain, and other discomforts for countless patients.
Stretching Therapy Appointments In Bellingham
Barkley Massage & Chiropractic now offers professional stretch therapy at our Bellingham, WA office. We take pride in helping patients achieve better flexibility, mobility, and pain relief through natural methods. Call today for more information or to schedule your first appointment.