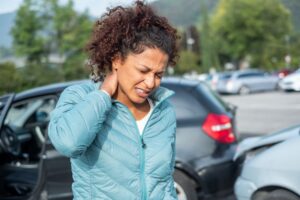 Our car accident and sports injury chiropractors at Barkley Massage & Chiropractic have helped many Bellingham, WA area clients recover from painful whiplash injuries. Whiplash symptoms sometimes don't show up until one or more days following the initial injury, giving you a false sense of security before hitting you like a brick wall. So, even if you don't feel immediate pain, it's best to seek care and treatment as soon as you can following a car accident or similar collision.
What Is Whiplash?
Whiplash is a soft tissue neck injury caused by a sudden, rapid back and forth movement of the neck. It most commonly occurs after a rear-end motor vehicle accident. Whiplash can also occur following a fall, high-impact sports injuries, physical abuse, and other circumstances causing a sudden and forceful jerk of your neck.
Common Whiplash Symptoms
Pain That Comes & Goes
Reduced Range Of Motion
Numbness Or Tingling In The Arms
Blurry Vision
Tinnitus
Difficulty Sleeping & Concentrating
Don't Delay Whiplash Treatment
The longer you put off seeking treatment for a neck injury, the more likely you are to suffer long-term side effects. These could include reduced mobility, vertigo, chronic fatigue, and chronic pain. Vertebral misalignment and subluxations that often accompany whiplash can lead to degenerative disc disease if they aren't treated.
Seeking care sooner rather than later can allow you to recover faster so that you can get back to enjoying your daily life.
Chiropractic Care For Whiplash
Because we specialize in holistic spine treatments, chiropractors are particularly suited to caring for whiplash sufferers. Generally, as a new patient, you will receive X-rays and a comprehensive exam to determine the type and extent of the injury.
In some cases, you may also be referred for an MRI or CT exam. Imaging and exam results will enable your chiropractic care team to devise a tailored treatment plan.
What To Expect During Whiplash Treatment
Depending on the extent of the whiplash injury, chiropractic treatment may include icing and exercises to perform at home, in-office exercises using therapeutic equipment, spinal manipulation, and massage. Some of our providers may also perform instrument-assisted manipulation and IASTM (Instrument Assisted Soft Tissue Mobilization).
How Long Does It Take To Recover From Whiplash?
Unfortunately, there is no easy answer. Although most patients start to feel pain relief after just a few treatments, you may require several months of care depending on the extent of your injury. You may need to see your provider as frequently as three to five times a week in the beginning. As your condition improves, your visits will decrease to twice a week, once a week, or less frequently.
Bellingham Area Car Accident Chiropractors
Barkley Massage & Chiropractic offers comprehensive whiplash treatment in the Bellingham, WA area. Unlike many chiropractic offices, we also have in-house massage therapists on our team to help you heal and feel better faster. Contact us today for more information and to book an appointment.