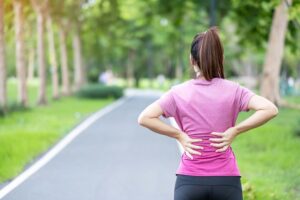 If you are suffering from chronic or acute back pain in Bellingham, WA, Barkley Massage & Chiropractic can help you find relief. We offer a variety of services to treat the root of what's causing your discomfort and bring you lasting relief.
Manual Adjustments
Spinal Manipulation
Soft Tissue Mobilization
Myofascial Release
Acupressure
Exercise Therapy
Spine Health Affects Your Overall Health
Your spinal cord contains many important nerves that send signals from your brain to every part of your body, allowing you to move, breathe, and sense pain, pressure, temperature, and more. If left untreated, a severely misaligned spine can lead to chronic headaches, nerve damage, neck, hip, and leg pain. Chiropractic treatment can help.
Improves Spine Health
Relieves Stress & Muscle Tension
Reduces Inflammation
Improves Your Flexibility, Balance & Range Of Motion
Improves Your Posture
Helps Prevent & Treat Back Injuries
May Fix Muscular Imbalances
Releases Endorphins To Boost Mood
Enhances Overall Health & Wellness
Getting To The Root Of Your Pain
We offer holistic healing alternatives that promote whole body health without resorting to medication or surgery. These chiropractic treatments are effective for many of the most common causes of back pain.
Sports & Automobile Accident Injuries
Repetitive Strain Injuries
Scoliosis & Poor Posture
Fibromyalgia & Multiple Sclerosis
Torn Muscles Or Ligaments
Pinched Nerve
Bulging Lumbar Disc
Bulging, Slipped, Or Degenerative Discs
Sciatica
Spinal Stenosis
Arthritis & Osteoporosis
Chiropractic Adjustments Can Prevent Pain
Even if you aren't currently suffering from debilitating back pain, you can still benefit from chiropractic adjustment. If you work at a desk job, play sports, or do manual labor, your spine, muscles, and joints likely experience a lot of wear and tear that can lead to hidden injuries, reduced mobility, and severe pain later on down the line.
A chiropractic adjustment can help realign your spine, rebalance your muscles, reduce stress, and improve your overall health.
Holistic Back Pain Relief In Bellingham, WA
By visiting an experienced chiropractor, you may not have to choose between enduring chronic pain and taking expensive and potentially addictive prescription medications, which sometimes cause other unpleasant side effects. Our caring chiropractors and massage therapists are trained in providing natural, non-invasive alternatives to pills and surgery. Contact Barkley Massage & Chiropractic today to make an appointment.