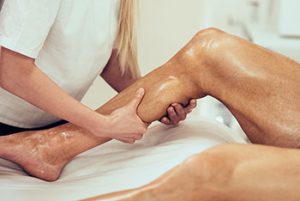 Get your body back in the game with a sports massage from Barkley Massage & Chiropractic in Bellingham. We're dedicated to helping you achieve optimum overall health and well being by providing you with integrated methods of physical therapy including both massage and chiropractic services. Just some of the benefits of sports massage therapy include:
Reduced Sports Injuries
Chronic injury Prevention
Improved Endurance
Increased Energy
Increase Oxygen Flow To Muscles
Reduced Performance Anxiety
Sports Massage Is For Everyone
You don't have to be a professional athlete to reap the benefits of a sports massage. Sports enthusiasts of any level can benefit from massage therapy. Additionally, if you work in a profession that requires repetitive or aggressive movements of lifting, pushing, pulling, and carrying, then adding sports massage to your regularly scheduled chiropractic adjustments can benefit you in both the long and short term.
Long-Lasting Positive Effects
Receiving a sports massage for 60 minutes, once a week, or every other week has shown to improve your overall sense of well being. Massage rejuvenates your mind, body, and spirit. Designed to reach deep portions of muscle fibers and release toxins, this type of touch increases the body's recovery rate. We can help you reduce injuries and soreness related to over-excursion.
Relieve Stress & Feel Revitalized
At Barkley Massage & Chiropractic, we're excited to help you feel at the top of your game. A sports massage therapist can leave you feeling energized and optimistic for weeks. Because we care about your health and busy lifestyle, we even offer massage and chiropractic packages as well as easy online appointment scheduling.
Check Out Our Amazing Deals & Specials
Schedule your sports massage today at Barkley Massage & Chiropractic in Bellingham. Conveniently located next to Starbucks in Barkley Village, with ample free parking, we're open seven days a week. You can count on us for all your massage therapy needs. Call us to find out more about our affordable membership packages, online gift cards, and other ongoing deals.