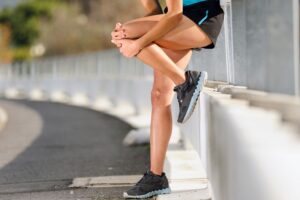 At Barkley Massage & Chiropractic, we provide chiropractic treatment for all types of sports injuries in Bellingham, WA. Sports are a great way to stay in shape, learn about teamwork, and alleviate stress. Unfortunately, injuries happen.
If you're looking to avoid addictive prescription medications and invasive surgical procedures, chiropractic care may help you with all types of sports injuries.
Frozen Shoulder & Rotator Cuff Injuries
Golfer's Elbow / Tennis Elbow
Sprains & Strains – Hip, Back & Knee Pain
Tendonitis
Stress Fractures
Plantar Fasciitis
Sciatica & Pinched Nerves
Shin Splints
Chiropractic Treatments For Sports Injuries
Whether shoulder pain has your dunk average on the decline, ankle pain has you watching the race from the sidelines, or a sore back is keeping you home on yet another perfect golfing day, chiropractic treatments may be just what you need to get you back in the game. It's natural, holistic, and treats pain at its root for effective healing and recovery.
Assisted Stretch Therapy
Exercise Therapy
Manual Adjustments / Spinal Manipulation
Soft Tissue Mobilization
Acupressure
Spinal Manipulation
A chiropractic adjustment can keep your spine properly aligned. If your spine is not properly aligned, it can cause pain and increase your risk of suffering even more serious injuries. We use a series of specialized movements to make sure your vertebrae are properly aligned, placing your body in the best position to heal naturally.
Relieve Acute & Chronic Pain
Prevent Further Damage
Support Healing, Naturally
Increase Overall Performance
Corrective Exercises
We can also teach you how to perform corrective exercises to increase your range of motion. By making your muscles and ligaments more flexible, you can reduce your chances of suffering a future injury.
Hip, Neck, Back & Leg Stretches
Strengthening Techniques
Neck & Arm Rolls
Posture Correction
Chiropractic For Sports Injuries In Bellingham
If you are looking for chiropractic for sports injuries in the Bellingham, WA area, we are here to help you. At Barkley Massage & Chiropractic, we will customize our sports injury treatment plans to meet your needs. Contact us today to make an appointment with our team.