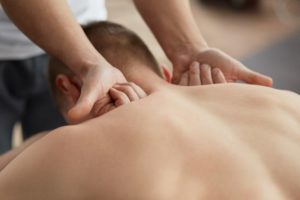 If you need relief for chronic neck and back pain, our skilled therapists at Barkley Massage & Chiropractic in Bellingham may be able to help through a beneficial medical massage technique known as Myofascial Release Therapy. We invite you to learn more about how you can benefit from this natural, non-invasive treatment option.
Fascia: A Hidden Support System
Not everyone is aware of the crucial role that fascia plays in maintaining a healthy and robust body. Myofascial tissues are connective tissues that support and protect your bones and muscles. They keep your body aligned and symmetrical. Unfortunately, trigger points sometimes develop within your fascia, resulting in deep muscle pain.
What Are Trigger Points?
Trigger points are tight, hypersensitive points in your muscle tissue. Some people describe them as knots or nodules that won't go away on their own. When touched, they can be very painful.
Trigger Points Can Cause Pain To Travel
Sometimes, your nerve endings transmit pain away from a trigger point so that you feel the pain in different areas of your body; this process is known as "referred pain." An example of referred pain is when you have a trigger point on your shoulder that causes pain to travel up your neck and head, causing you to develop a tension headache.
What Is Myofascial Release Therapy?
Myofascial Release Therapy, or MRT, is a form of medical massage aimed at reducing or eliminating your chronic pain by releasing your trigger points. During the treatment process, a massage therapist will apply light pressure to various areas of your body to detect your trigger points.
He or she will then gently stretch and manipulate these tight areas, attempting to release the pressure and tightness in your myofascial tissues.
Benefits Of Myofascial Release
Myofascial Release Therapy can help reduce chronic pain from many conditions.
Back Pain
Neck Pain
Myofascial Pain Syndrome
Fibromyalgia
Osteoarthritis
Plantar Fasciitis
Scar Tissue Buildup
When Not To Attempt Myofascial Release Therapy
Medical massage, when performed by a skilled chiropractor or massage therapist, is safe and effective. However, not everyone is a suitable candidate for this technique.
We do not recommend Myofascial Release Therapy if you are on blood-thinning medications or have any of the following medical conditions.
Painful Wounds
Burns
Fractures Or Broken Bones
Weak Or Fragile Bones (Osteoporosis, Osteopenia)
Deep Vein Thrombosis
Find Relief In Bellingham Today
Natural, holistic treatment for chronic pain is just a phone call away. Contact our friendly massage therapists at Barkley Massage & Chiropractic in Bellingham and schedule your first appointment for Myofascial Release Therapy today.