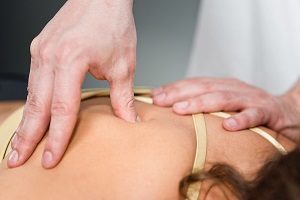 You may be curious about the different massage techniques offered at Barkley Massage & Chiropractic in Bellingham, WA. When comparing our medical massage and wellness massage services you may notice some overlap. The why, how, and desired outcomes for both types of massage can be very different.
What Is Medical Massage?
A doctor typically orders therapeutic medical massage as part of a treatment plan for injuries or pain or to promote healing. This means your appointment may be billable through insurance and will focus on remedying a particular issue, trauma, or condition. This type of massage is often used to complement chiropractic adjustments and care.
Types Of Medical Massage
Medical massage therapy can encompass several techniques. Which one your doctor chooses will depend on your specific needs. The methods used vary, but most techniques aim to bring relief to specific injuries and conditions.
Neuromuscular Therapy
Myofascial Release
Positional Release
Trigger Point Therapy
Muscle Testing
What Is Wellness Massage?
Wellness massage is the kind of massage therapy most people think of when they think of a spa day, couples massage, or relaxing tense and aching muscles. This therapy is performed without a prescription from a doctor, and cannot be billed to your insurance.
There is no limit to how often a healthy person can enjoy a wellness massage. It's a wonderful option for people of all ages to relax muscles, the mind, and improve circulation, among other things.
Types Of Wellness Massage
Again, the variety of options and techniques within the world of wellness massage vary widely. Whether you want to relax, increase circulation or get out some knots, individual massage therapists will often have preferred methods and specialties to meet your goals.
The Best Of Both Worlds
You will find some spas and clinics focus only on particular specialties. One of the many benefits of Barkley Massage & Chiropractic is the access you have to both medical and wellness massage therapies as you need or desire them.
Wellness & Medical Massage In Bellingham
If you are searching for the relief a medical massage clinic can bring, contact us at Barkley Massage & Chiropractic today. Our licensed massage therapists love to meet with new clients like you.
We can't wait to get you on the road to vibrant health and vitality.