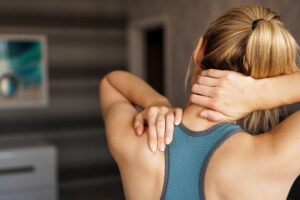 Debilitating shoulder pain can wreak havoc on your daily life, but Barkley Massage & Chiropractic in Bellingham, WA may be able to help. Our shoulder pain specialists have helped many patients with common injuries improve without resorting to invasive surgery or expensive medication.
What Causes Shoulder Pain?
There are so many possible answers to this question that it would be impossible to list them all. Here is a shortlist of some of the most common culprits.
Spinal Misalignment
Dislocated Shoulder
Arthritis
Frozen Shoulder
Tendonitis
Rotator Cuff Injury
Fractured Arm Or Collarbone
Pinched Spinal Nerves
Abnormal Posture
Symptoms You Should Not Ignore
Pain isn't necessarily the first or only sign that something is wrong with your shoulder joint. Numbness, pins-and-needles, or tingling in the arm can also indicate a problem. Tightness and reduced range of motion are also indications that something may be wrong with these large and highly complex joints.
The longer you pretend a problem isn't there, the worse it can become. Minor shoulder pain might clear up on its own, but if it persists, you can end up in crippling pain or with a completely frozen joint. Here are signs that it's time to seek help.
The Pain Lasts More Than A Week Or Frequently Recurs
You Can Feel Clicking Or Popping In The Joint
You Can't Raise Your Arm/Arms Over Your Head
It Hurts To Carry Things
You Have Bruising Or Swelling
Can A Chiropractor Help My Shoulder?
You might be thinking that chiropractors are only good for adjusting spines, but we can also help treat and heal many of the most common shoulder issues. Your spine and shoulder work together. Shoulder pain treatment often starts with the neck and upper back.
With time, chiropractic treatment may be able to reduce inflammation and swelling and realign your joints, leading to reduced pain levels and increased range of motion.
Massage Therapy & Shoulder Pain Treatment
In addition to chiropractic adjustments, medical massage therapy is a safe and effective treatment often used to heal a damaged or frozen shoulder. Massages can relieve tension and tightness, thus relaxing muscles. This may lead to improved blood flow, reduced inflammation, and better mobility. The type of massage used would depend on the nature and extent of your injury.
Shoulder Pain Relief In Bellingham, WA
Our providers at Barkley Massage & Chiropractic are experienced practitioners when it comes to treating a wide range of shoulder injuries with traditional chiropractic care as well as professional massage therapy. To find out more, call today to schedule your consultation in Bellingham, Washington.