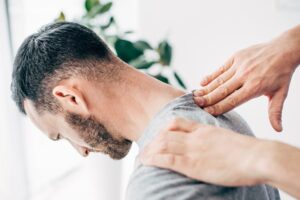 Barkley Massage & Chiropractic in Bellingham, WA, can help ease that severe or chronic neck pain that has been wreaking total havoc on your everyday life. Waking up stiff and sore, knowing that you have to get through the day at work while your neck throbs more and more, can drag you down before your day even gets started.
Fortunately, our neck pain chiropractor offers affordable holistic treatment plans that can help you recover and live your best life without having to rely solely on prescription medicine or surgery.
Alternative Treatments For Neck Pain
As soon as you mention pain to a traditional doctor, they might start by prescribing medication or writing an order for a consultation with an orthopedic surgeon. Specialist appointments can take months to get, and sometimes, the treatments offered by traditional medicine can cause as much harm as good.
If your neck is bothering you, instead of booking that appointment with your primary care, consider consulting a chiropractor, who may be able to offer an effective treatment plan to reduce or eliminate neck pain without medication or surgery.
The Many Causes Of Chronic Neck Pain
Sedentary lifestyles and too much time spent in front of computer screens, mobile phones, tablets, TVs, and other devices are common causes of neck pain in the United States. Our heads are heavy, and many of us tend to let our heads lean forward as we work on devices that can cause abnormal curvature in the cervical spine.
Lifestyle aside, many other factors can also lead to chronic spinal discomfort.
Poor Posture
Aging
Pinched Nerves
Muscle Spasms
Slipped Discs
Auto & Sports Injuries
Osteoarthritis Of The Spine
The Advantage Of Chiropractic Neck Pain Treatment
Traditional doctors tend to focus on symptoms. On the other hand, chiropractors are holistic practitioners who believe in treating and healing the entire body. A schedule of regular chiropractic care can help you find natural relief for your neck pain while avoiding invasive treatments.
Personalized Treatment Plans
Spinal Adjustments
Therapeutic Exercises & Stretches
Posture Correction
Help For Your Stiff Neck In Bellingham, WA
Our chiropractors and licensed massage therapists at Barkley Massage & Chiropractic want to help you find relief from your debilitating neck pain. Unlike many single-focus chiropractic offices, we offer our patients a combination of regular chiropractic adjustment and other spinal treatments combined with targeted massage therapy that can help speed up the healing process.
If you're ready to say goodbye to your aching or stabbing neck pain, give us a call today to set up an appointment.