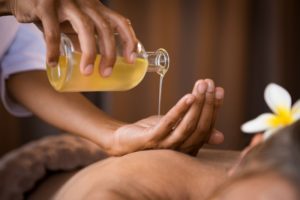 Barkley Massage & Chiropractic in Bellingham, Washington, is your premier local source for the rest and relaxation of an aromatherapy massage. You're sure to remember this therapeutic self-care session for a long time.
Hard week? Our diverse team of licensed massage therapists is prepared to treat you to an aromatherapy massage that leaves you feeling rejuvenated and ready to take on the world again.
What Is Aromatherapy Massage?
There are a wellspring of different massage techniques that can be combined with aromatherapy to address your specific needs. The real magic begins with the addition of essential oils, which can be absorbed through the skin or inhaled to deliver their unique benefits.
Benefits Of Aromatherapy Massage
The benefits of aromatherapy massage are nearly endless, and custom blends of oils can even be made to suit specific moods or conditions.
Here are just a few things you can look forward to with this therapeutic form of massage therapy.
Stress Reduction
Relaxation
Pain Relief
Energizing
Decongesting
Calming
PMS Relief
Headache Relief
Improve Skin Tone
Improve Muscle Tone
Fight Infections
Combat Fatigue
Aid Digestion
Boost Immunity
Improved Back Pain
Essential Oils & Massage
Quality medical-grade essential oils are linked to a variety of health benefits, including help with chronic pain, anxiety, muscle tension, stress, depression, and even insomnia. It is important to find a massage therapist that understands the benefits of essential oils.
Choose a deep tissue massage with lavender oils for deep relaxation and peace of mind, or schedule a couples massage with rose and ylang-ylang to encourage inspiration and energize the senses. You will not be disappointed.
Is Aromatherapy Massage Right For You?
Be sure to alert your therapist if you have sensitive skin or allergies before your session begins. Our friendly professionals will be able to suggest alternatives that will still make for a great experience.
Relax Your Mind & Body In Bellingham
Make self-care more of a priority in your life. You deserve to be pampered. Relaxation, peace, and soothed muscles are yours for the taking by contacting us at Barkley Massage & Chiropractic in Bellingham, Washington. Set up your appointment today.