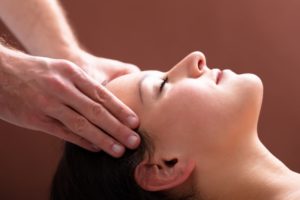 If the pain of migraines or tension headaches are affecting your quality of life, consider a relaxing headache massage at Barkley Massage & Chiropractic in Bellingham, WA. Our certified massage therapists may be able to bring you natural, drug-free relief from the debilitating pain you have been suffering.
Chronic Headache Relief
Because headaches can be genetic, due to environmental influences, or come from lifestyle factors like stress, diet, or sleep problems, it can be hard to pinpoint the source. So, how do you make them go away without continuously relying on prescription or over the counter drugs, and their side effects?
You probably already know that massage can help manage and alleviate pain in your shoulders, neck, and back. Still, you may not have stopped to consider that in the right hands, therapeutic bodywork can also target headache pain.
Imagine life with less pain. Whether you suffer from repeated migraines, tension headaches, or headaches caused by a neck injury, our experienced massage therapists are ready to assist.
How Can Massage Help?
Correctly performed headache massages may be beneficial in multiple ways. Massage therapy may even help you to cut back on the amount of prescription or over the counter medications that you take to control your headaches. For instance, regular appointments with our therapists may help you by:
Decreasing Pain Levels
Minimizing Headache Frequency, Intensity & Duration
Reducing Muscles Tightness / Tension
Relieving / Reducing Stress
Improving Sleep
How Does Headache Massage Work?
Looking to get rid of headaches? Therapeutic massages help to trigger your body's own healing processes. Correctly performed tension or migraine headache massages have been shown to:
Stimulate the release of serotonin and endorphins (your body's feel-good chemicals), which can help ease migraine pain.
Block pain signals by stimulating competing nerve fibers.
Decrease your levels of cortisol, the stress hormone.
Increase blood flow, which can relieve pain and promote healing.
Relieve­­ specific trigger points that may contribute to migraine-type headaches.
Headache Relief In Washington
You deserve a happy, pain-free life. If natural, drug-free headache pain relief is one of your goals this year, don't hesitate to call and schedule a consultation. At Barkley Massage & Chiropractic in Bellingham, we look forward to meeting you. Contact us today to see if a headache massage might be right for you.